Gas burners
Wide range of gas burners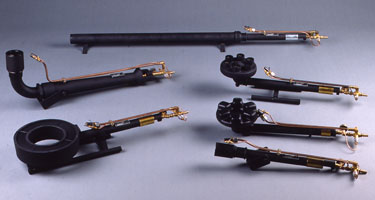 A gas burner is an appliance that mixes fuel with air or oxygen and controls their combustion. It is mainly used in heaters, ovens, furnaces…
GD manufactures high and low pressure gas burners. Low pressure gas burners are mainly used for large groups, cooking pulses in the food industry, as extra stoves at restaurants, especially for lacquered duck and wok cooking at Chinese restaurant, and in griddles for hot dogs cooking among many others.
You can also find applications to our high pressure gas burners in the food processing industry, especially in seafood boiling, craft beer brewing, vegetable boiling for its subsequent preserve, sweets and caramelized peanuts production… But it has a much more extensive field of applications: kilns, forging, tobacco drying, steel sheet heating, smelting furnaces, die heating, moulds, printing, gas tank emptying, torches, automobile supply industry, covering…
Our wide experience in the manufacture of atmospheric gas burners allows us to meet any market requirement and to produce any customer suggested design.
We are specialized in different configurations for craft beer brewing, and special industrial processes. Our technical department will help you choose the most suitable model for your application. We also offer maintenance and repair service in our premises.
Types of gas burners
Click on the features and get all the information you need
High pressure gas burners
Premium series low pressure burners
Chrome and Foundry series low pressure burners
Low pressure linear gas burners
What kind of burner do I need?
If you want to choose the optimal burner for each type of cooking, you should take into account the volume of the mass to be heated and how fast you want to heat it.
The following table shows the approximate time required to boil a given mass depending on the power of the burner.
Time required to boil a given mass
How can you prevent gas cylinders from freezing?
When the consumption exceeds the gasification capacity, gas cylinders tend to freeze. To prevent this, the propane installation should be designed according to the power/consumption of the burner to ensure the required gas flow: be sure you connect as many gas cylinders as kilos of propane are necessary.
La siguiente fórmula nos ayudará a determinar el número de botellas necesario:
Kcal/h / 12= gr/h
Vapor Booster is a good alternative to the cumbersome cylinder pool. It is a thermal belt that enhances gasification by increasing the performance of the butane/propane cylinder to the equivalent of 4 cylinders in parallel.
Do you have any doubt?
If you need help do not hesitate to contact us
Contact us through this contact form. If you prefer in the contact section or footer you can find different ways to answer your questions.