Appliances and accesories
Appliances and fittings for gas installations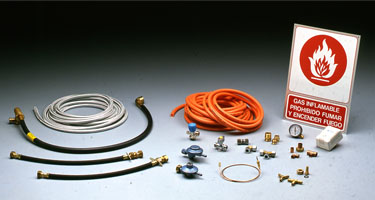 In a gas installation the smallest detail is important. GD Aparatos offers you a wide range of articles from which you will be able to find what you are looking for. You can rely on our experience; we can supply you with everything in national and international brands. Leave the supply of appliances and gas fittings in our hands.
Let us emphasize our Gas detectors whose installation we highly recommend in order to prevent fatal accidents caused by uncontrolled gas leaks. Gas detectors must always be connected to an electrovalve which will cut off the gas flow and/or start an alert signal in case a concentration higher than the pre-established one is detected.
Accessories and Fittings for Gas Installations
Click on each family and get all the information you need
Do you have any doubt?
If you need help do not hesitate to contact us
Contact us through this contact form. If you prefer in the contact section or footer you can find different ways to answer your questions.