Chemtane 2
The most efficient and performing gas for cutting and heating with oxygen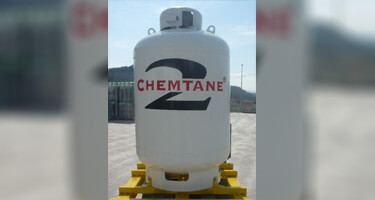 Chemtane 2 is  a new generation additive for LPG and LNG  formulated to substitute acetylene in oxy-cutting, welding and industrial heating outperforming it. CHEMTANE 2 is successfully being used in numerous industrial manufacturing and fabrication environments with repeated success. This product is utilized in cutting, scarfing, gouging, brazing, soldering, flame hardening, thermal spraying and flame coating, among other processes.
Details and comparisons
Discover the history, comparative properties and possibilities of Chemtane 2
Its origins
CHEMTANE 2 is a cutting fuel developed over 17 years ago by Chemtane Energy, LLC.. During the past decade, the company  has devoted extensive resources to developing and refining the blending of its chemicals. The result is a new generation cutting fuel that is more economical, faster, and safer than acetylene. This product's performance offers the consistency and reliability not usually associated with other products.
Chemtane 2 vs Acetylene
Chemtane 2 increases flame temperature up to 3315ºC, which is higher than acetylene. Chemtane 2's secondary flame being longer and hotter allows a much more comfortable, quick and easy job.
It is safe, with minimum slag and weldback. It burns clean, without soot or smoke. It has very narrow explosive limits and it is stable, not sensitive to shock.
Chemtane 2 is unexpensive; the cost per unit is much lower than acetylene's.
No rent is being charged for the cylinders.
Less consumption of fuel and oxygen.
Minimizes system rebuilds.
Less storage space is needed.
It is environment friendly, no pollutants are emitted during its manufacturing, it does not contain any acetone and it burns clean.
It contributes to energy saving since less fuel and oxygen are required.
Less labor is required due to reduced handling of materials.
Chemtane 2 vs Propane
Chemtane 2's flame temperature in oxygen is about 800ºC higher than propane's. This allows a much quicker job with a reduction of about a 42% of oxygen.
This additive is much more profitable than propane. In decreasing time we obtain more production, less consumption of fuel and oxygen and we reduce labor costs.
How is Chemtane 2 being supplied?
Chemtane 2 is supplied in the following formats:
DISPOSABLE CARTRIDGE: For all types of professional installations.
3 KG CYLINDER: For portable oxygas equipments
11 KG CYLINDER: For oxygas industrial equipments
 210 KG CYLINDER: For large consumptions
BULK: We can supply Chemtane 2 tanks according to each customer's requirements.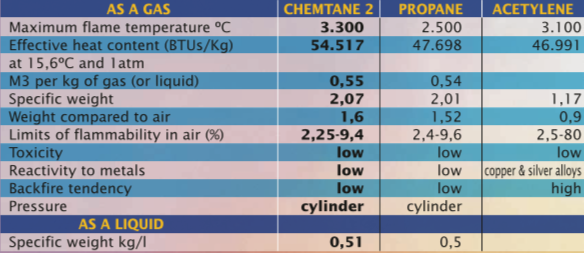 Who is using it
Field construction Companies
Fabrication Shops
Flame cutting shops
Scrap Yards
Machine shops
Ship yards
Military Installations
Jewelry manufacturers
Glass Industry
Thermal Spray
Distribution network
We have an extensive distribution network. Just ask us if you require more information about your nearest distributor.
How can you substitute other fuels by Chemtane 2?
Following figures are related to Spanish regular Chemtane 2 cylinders. Other countries may have a different range of cylinders.
ACETYLENE
– Small cylinders are replaced by our 3 kg one at the following rate: One 3 kg Chemtane 2 cylinder substitutes about eight 0,7 kg acetylene cylinders.
– 7 kg acetylene cylinders are replaced by our 11 kg one at the following rate: One 11 kg Chemtane 2 cylinder substitutes about three and a half 7 kg acetylene cylinders.
– Acetylene packs:
Option A – Chemtane 2 cylinder manifold
Option B – 210 kg cylinder (it substitutes 67 7 kg acetylene cylinders)
PROPANE
– Portable kits with ca 2,5 kg cylinders are replaced by our 3 kg one.
– 13 kg and 35 kg cylinders are replaced by our 11 kg or 210 kg ones .
– Cylinder manifolds are replaced by our 210 kg cylinder.
– LPG Tanks: Those end users who already have an LPG tank need not do any type of change; Chemtane 2 can be supplied in their very same tank.
Do you have any doubt?
If you need help do not hesitate to contact us
Contact us through this contact form. If you prefer in the contact section or footer you can find different ways to answer your questions.