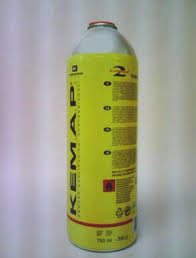 GD Aparatos launching a new form of Chemtane 2 disposable cartridge 385gr. sous the trade name KEMAP. This new format will facilitate welding and cutting tasks all users who will have, or wish to have a mobile oxy-fuel equipment.
Chemtane 2 adds á reducing costs, increasing productivity, autonomy, security and environmental protection, a lightweight container, practice and a single use.
KEMAP outperforms other similar products thanks to its high flame temperature and its physicochemical properties that allow optimal oxygen utilization with a considerable reduction in work of the hands of costs.
The KEMAP cartridges can be obtained through the usual á Chemtane 2 distributors located throughout Spain. They may also be available in the main sector institutions.