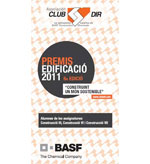 Chemtane 2 has received the 3rd prize in the 6th edition of the EDIFICATION PRIZE of the Club Dir Association.
Since 2004, the Club Dir Association has given prizes to new ideas in the Building sector contained in the works presented by students from Building Engineering. In the 2011 edition, the work presented by the students Salvador Bohigas, Daniel Hidalgo and Albert Juanico from the Polytechnic University of Catalonia, has received a deserved reward with the awarding of the 3d prize.
The work, named "ROOFING OPTIMIZATION", deals with the study of the efficiency of Chemtane 2 in the asphalt sheet application for waterproofing. The in-shop tests were performed in the presence of SIPLAST technicians, experts in waterproofing; in site, they were assisted by several professionals of the asphalt sheet.
The results proved that the higher calorific power of Chemtane 2 allows working with very much lower pressures than those generally used by professional applicators, considerably reducing this way the gas consumption and thus avoiding the freezing of the bottle caused by flow excess. The results are especially noticeable in the use of PARAFOR SOLO GS, the new sheet that ICOPAL, S.A.S has launched in the market for monolayer systems, with mineral self-protection. The groove system incorporated in this new membrane, favours a higher concentration of oxygen, which contributes to improve the effects of Chemtane 2.
The CLUB DIR company Association, with the permanent technical support of BASF Building Chemicals, guarantees the application of chemical products in building, from the diagnosis to the setting up, always aware of the last technological innovations for building, industry, public works, trade and services.